History is rife with might have beens. What if Columbus had made it to India? What if John F. Kennedy hadn't been assassinated? What if Hitler had won the Second World War?
History is also rife with people trying to cover up missteps that may tarnish reputations when posterity takes a cold hard look back.
That, according to author Andrew Morton, is what the British royal family, Winston Churchill, former British prime minister Clement Attlee and even American president Dwight D. Eisenhower were trying to do with the Windsor File, a group of documents found just after the war ended.
They were found, Morton writes, in a "metal canister which had been buried on a German estate" that painted "an astonishing portrait of a man who was disaffected with his position, disloyal to his family and unpatriotic towards his country."
The story he tells in
17 Carnations: The Royals, The Nazis, and the Biggest Cover-Up in History
is the story they didn't want us to know. And the "what if" questions it evokes: What if Edward VIII had stayed on the throne instead of abdicating? What if Queen Mary and other royals had not vetoed his marriage to a respectable British woman? Would the Second World War have been avoided? (
more
...)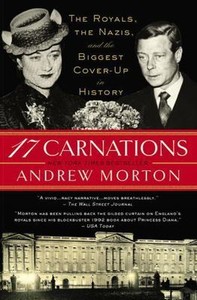 Related: