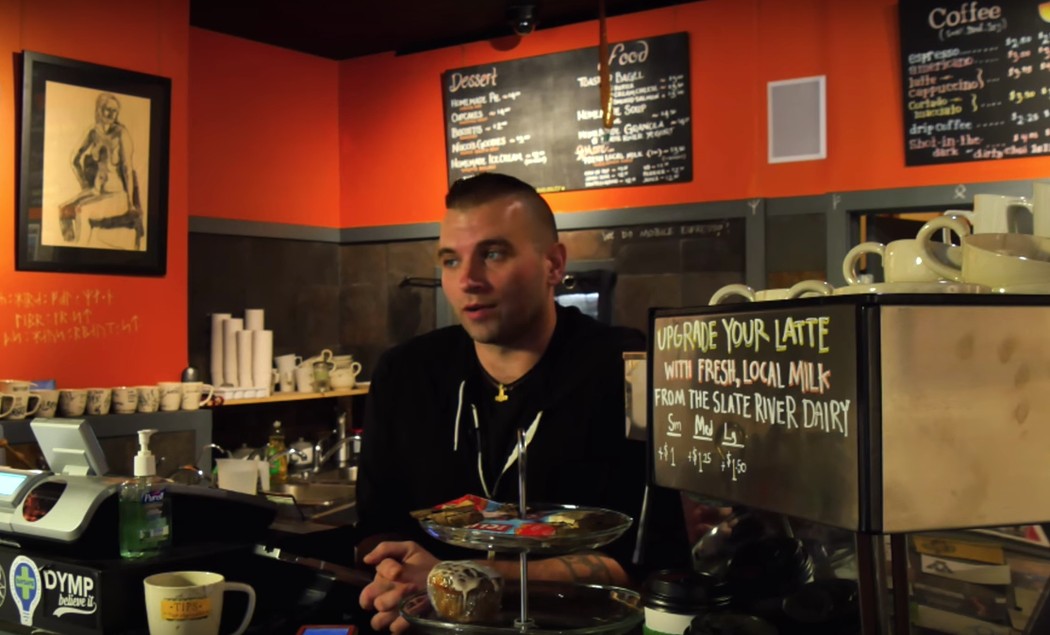 In the spring of 2017, Thomas White had an idea: What if he combined his love of gourmet coffee with his staunch belief in a white ethnostate?
In caffeinated circles, White was already well-known. Espresso Joya, which he opened in 2015, was a fixture of Thunder Bay, Ontario's small but vibrant arts scene. The walls of the coffee shop, located in the town's trendy Waterfront District, served as a revolving gallery for local artists. Joya's small stage regularly hosted a mostly-acoustic plethora of singer-songwriters, and its shelves were stocked with local food and goods.
The quality of Joya's espresso, hyped by locals and out of town Yelp users alike, completed this artsy smorgasbord. "It's all about doing really exceptional quality in terms of the quality and the product as well as providing a really nice space for local artists," White said in a short 2017 documentary on Thunder Bay's coffee scene. An accredited teacher, he taught drawing art at the local arts centre and was a volunteer firefighter.
Online, White was the antithesis of this very earnest coffee shop owner. For the last six months, under the alias "League of the North," White has co-hosted "This Hour Has 88 Minutes," the most popular white supremacist podcast in the country.
The podcast's title, a riff on the
CBC
comedy show with a nod to 88, or the numerical representation of "Heil Hitler," speaks to the show's format and ethos: a white nationalist take on the news replete with racial epithets, misogyny, and conspiracy theories, coupled with Holocaust denials and the occasional veiled call for violence. And White wanted to get his coffee into the hands of 88 Minutes listeners, as well as anyone else with pride in their white skin. (
more
...)
Making the North Great and White Again?