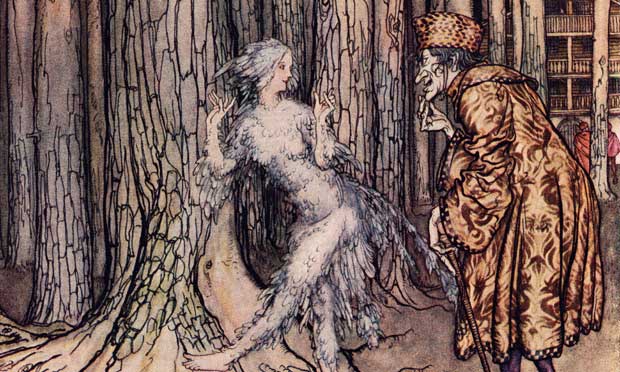 Once upon a time, two German brothers began collecting the best fairytales of their age. They gathered an array of stories involving princes and princesses, forests, castles and magic, but also darker sagas of cannibalism, dismemberment, murder and evil stepmothers.
The 200th anniversary on Thursday of the first publication of the Grimm brothers' Die Kinder und Hausmärchen (Children's and Household Tales), a collection of 86 stories that became worldwide classics, is triggering a year of feverish celebrations in Germany to mark the birth of one of the most frequently read books in the world.
Academics from around the globe, meeting this week in the central German city of Kassel, close to the brothers' birthplace, are kicking off the 2013 celebrations with a Grimm brothers' congress. Participants, ranging from lexicographers to psychoanalysts, will focus on everything from the book's enduring legacy to the brothers' impact on German grammar and how they shaped the nation's erotic imagination.
"Even during their lifetime the Grimms' book became a huge bestseller among every section of society," said Claudia Brinker-von der Heyde, the congress president. "And so they became an indispensable part of our everyday culture and our national identity."
Other Grimm events will include forest trails in the western city of Marburg where the brothers studied, light shows, art installations, cabarets, theatre productions, readings and operas.
Amid all the fanfare for the siblings who gave the world those unforgettable, childhood-defining tales of Red Riding Hood, Snow White and the Seven Dwarfs, and Rapunzel, cultural observers say the anniversary is above all a chance to examine once again a literary legacy that has often been associated with the gloomier side of German history.
In a recent essay in Der Spiegel, Matthias Matussek, one of the country's leading cultural commentators, argued that the "most successful book in the German language" offered an unparalleled exploration into the people's "dark souls", but said that most ordinary Germans had long ago fallen out of love with the storytelling masters.
...
Matussek, who describes the Brothers Grimm as mind doctors who "eavesdropped" on Germans' primordial joys, fears and hopes, writing as they had when memories of the 17th-century 30 years war were still strong and at a time when Napoleon was seen as the new threat to peace, says it was the Nazi era that quashed the Germans' interest in their favourite fairytales.
"Since then, the Germans have been without dreams and they'd like to ensure it stays that way," he suggested. Having a dream or a vision – if the consequence was a murderous dictatorship was viewed with suspicion, he said.
The theory that the Grimms' tales, particularly the more brutal ones such as How Children Played Butcher With Each Other, in which a whole family massacres itself, had an adverse effect on the German character was expressed frequently after the second world war. (
more
...)
How the Nazis colonized America: