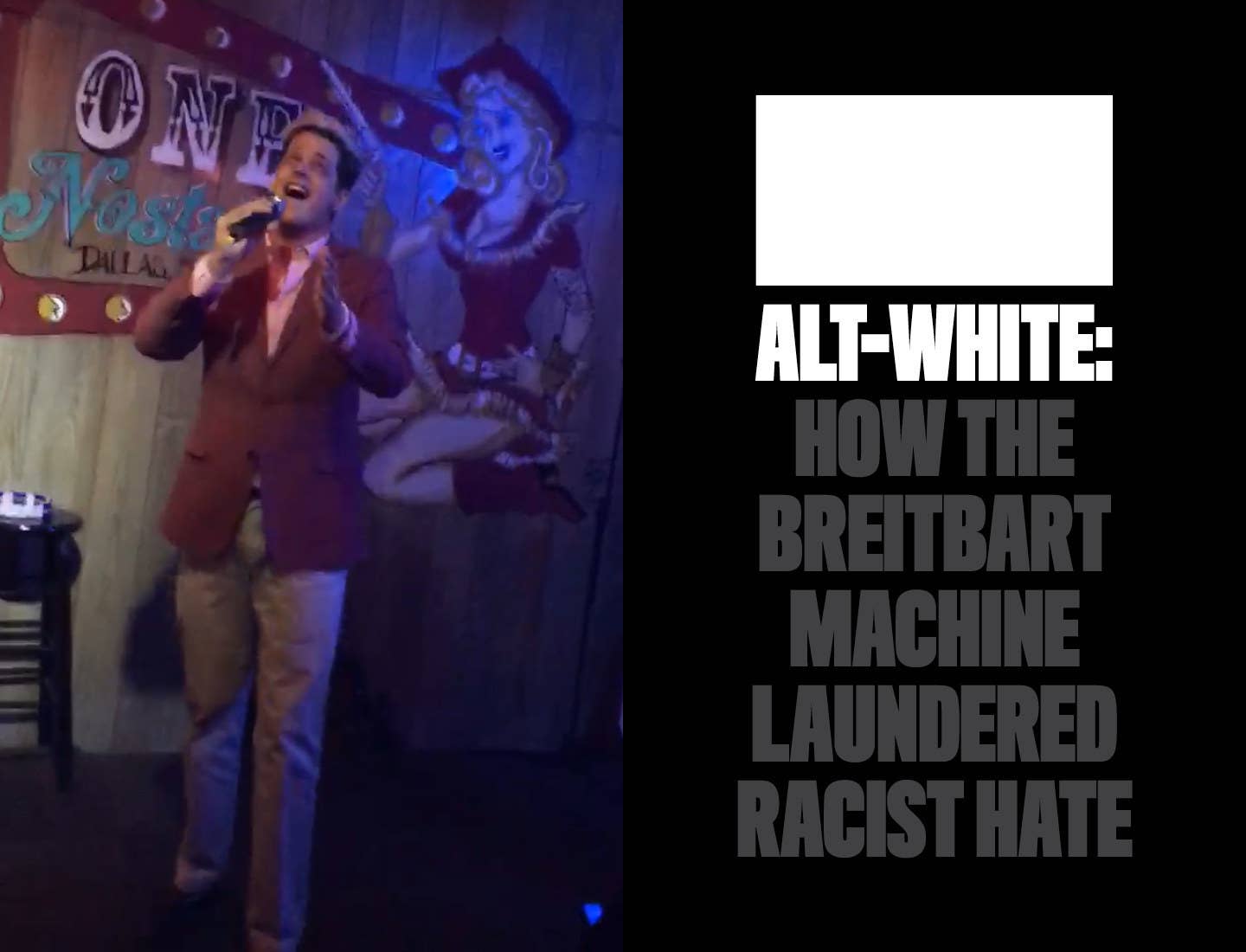 In August, after a white nationalist rally in Charlottesville ended in murder, Steve Bannon insisted that "there's no room in American society" for neo-Nazis, neo-Confederates, and the KKK.
But an explosive cache of documents obtained by
BuzzFeed News
proves that there was plenty of room for those voices on his website.
During the 2016 presidential campaign, under Bannon's leadership,
Breitbart
courted the alt-right — the insurgent, racist right-wing movement that helped sweep Donald Trump to power. The former White House chief strategist famously remarked that he wanted
Breitbart
to be "the platform for the alt-right."
The
Breitbart
employee closest to the alt-right was Milo Yiannopoulos, the site's former tech editor known best for his outrageous public provocations, such as last year's Dangerous Faggot speaking tour and September's canceled Free Speech Week in Berkeley. For more than a year, Yiannopoulos led the site in a coy dance around the movement's nastier edges, writing stories that minimized the role of neo-Nazis and white nationalists while giving its politer voices "a fair hearing." In March,
Breitbart
editor Alex Marlow insisted "we're not a hate site."
Breitbart's
media relations staff repeatedly threatened to sue outlets that described Yiannopoulos as racist. And after the violent white supremacist protest in Charlottesville, Virginia, in August,
Breitbart
published an article explaining that when Bannon said the site welcomed the alt-right, he was merely referring to "computer gamers and blue-collar voters who hated the GOP brand."
These new emails and documents, however, clearly show that
Breitbart
does more than tolerate the most hate-filled, racist voices of the alt-right. It thrives on them, fueling and being fueled by some of the most toxic beliefs on the political spectrum — and clearing the way for them to enter the American mainstream. (
more
...)
H/T to
Spitfire List
Conservatism was very successfully co-opted by Nazis during both the hot and cold wars. Look carefully, and you can discern their signature in pro-life, pro-family, free speech, limited government, pro-gun, and every cause that is dear to conservative voters. The Nazis are masters of dissimulation, spycraft, infiltration, subversion, and corruption. Assume there are none in the room at your own risk.
Have a merry eugenic Christmas! (Your side of the wall)