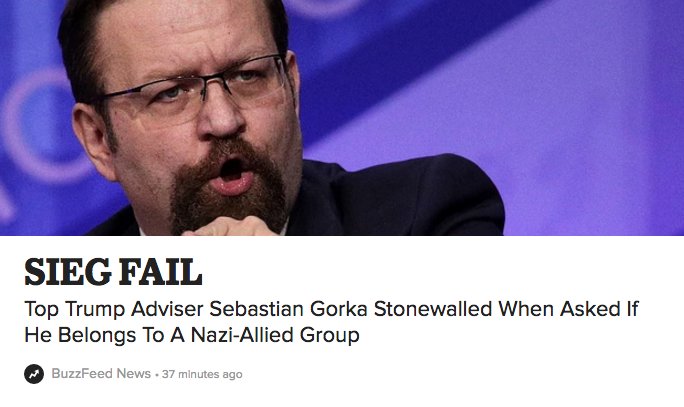 On the website
Tablet
, writer Liel Leibovitz takes the
Forward
to task for our report on claims by leaders of the far-right Hungarian group Vitézi Rend that Sebastian Gorka, President Trump's counter-terrorism aide, is one of their members.
In his piece, Leibovitz reports that he spoke with Gorka, who firmly denied the affiliation.
"I have never been a member of the Vitez Rend," he reports Gorka telling him. "I have never taken an oath of loyalty to the Vitez Rend. Since childhood, I have occasionally worn my father's medal and used the 'v.' initial to honor his struggle against totalitarianism."
Strangely, when Gorka issued his own formal and official statement through the White House Press Office addressing the
Forward's
story Thursday evening, this denial was nowhere to be found.
"I've been a committed opponent of anti-Semitism, racism and totalitarianism all my life," the statement said. "Any suggestion otherwise is false and outrageous."
Gorka's official statement did not address assertions by Vitézi Rend leaders that he had sworn a lifelong oath of allegiance to their group, which is listed by the U.S. State Department as having been "under the direction of the Nazi Government of Germany" during World War II; nor did it address the question of whether he had disclosed this reported affiliation to government officials when he immigrated to the United States or later, when he obtained American citizenship, as each process would require. (
more
...)
Background: