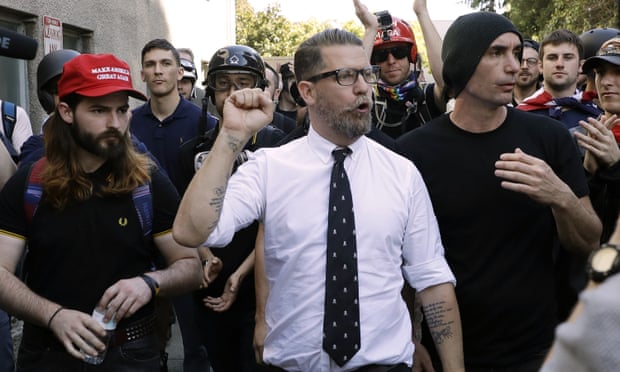 The FBI now classifies the far-right Proud Boys as an "extremist group with ties to white nationalism", according to a document produced by Washington state law enforcement.
The FBI's 2018 designation of the self-confessed "western chauvinist group" as extremist has not been previously made public.
The Proud Boys was founded by the
Vice Media
co-founder Gavin McInnes. McInnes has insisted that his group is not white nationalist or "alt-right" but the Proud Boys have a history of misogyny and glorifying violence. The Southern Poverty Law Center (SPLC) lists them as a hate group.
The document also says: "The FBI has warned local law enforcement agencies that the Proud Boys are actively recruiting in the Pacific north-west", and: "Proud Boys members have contributed to the recent escalation of violence at political rallies held on college campuses, and in cities like Charlottesville, Virginia, Portland, Oregon, and Seattle, Washington."
The report, and the FBI's warning to south-west Washington police agencies about the Proud Boys' role in escalating violence at these events came in August, two months before the group was involved in an infamous weekend of street violence in New York City and Portland, and not long after they participated in street violence in downtown Portland on 30 June. (
more
...)
But in Ca-Nazi-doh, no problem:
Gimme suma dat Nazi luv!
— FrankMagazineOttawa (@frankmagonline) November 21, 2018