Look! Over there! A security risk!
We write as retired general and field officers from the United States Armed Forces as well as retired civilian leaders from the National Security Council; the Departments of State, Treasury, Defense, Justice, and Commerce; and the U.S. Agency for International Development to reinforce our strong conviction that corruption threatens U.S. national security by fueling and funding terrorism, financing webs of criminality, driving conflict, and increasing insecurity and instability globally.
As you and your colleagues look to curb rogue nations, kleptocrats, and transnational criminal networks from using America as a safe harbor for their ill-gotten gains, we urge you to take action against the use of anonymous shell companies.
The U.S. remains the easiest place in the world to set up an anonymous shell company according to an academic study from the University of Texas and Brigham Young University.1 To give one example, during the research phase of the study, one corporate formation agent in Florida responded to an email describing a fictitious inquiry writing that, "[Y]our started [sic] purpose could well be a front for funding terrorism… I wouldn't even consider doing that for less [than $5,000] a month… If you are working with less than serious money, don't waste anybody's time here.
These companies have put Americans at risk and worse — criminals enjoy the benefits of strong investment returns and total secrecy here in the U.S. Drug cartels and human trafficking operations have long understood the benefits of corporate secrecy to launder money from criminal enterprises. More recently, anonymous companies are implicated in terror financing, fraudulent contracting with our military, and even sanctions evasion. (
more
...)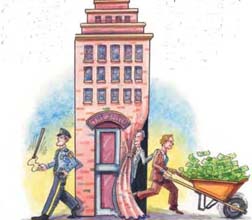 Trump's Money-Laundering Tower?