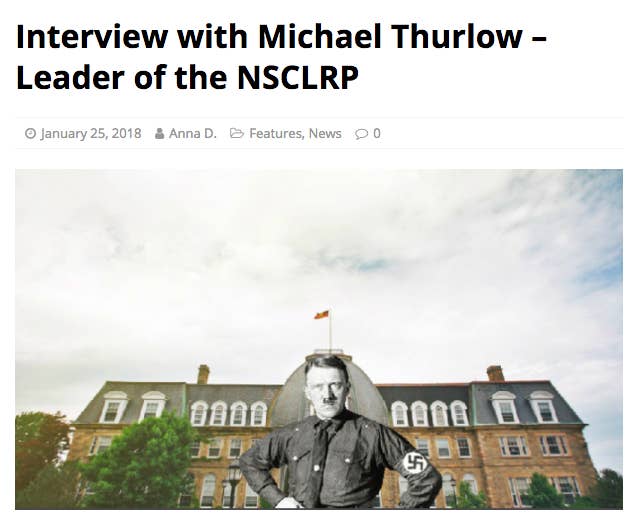 A student newspaper in New Brunswick published a largely uncritical interview with a Nazi sympathizer in which he praised Adolf Hitler's book
Mein Kampf
, downplayed the horrors of residential schools, and claimed white supremacy was a myth invented by Jews. The paper also published a separate opinion piece by him in which he spread a slew of anti-Indigenous and anti-Semitic tropes.
Michael Thurlow describes himself as the president of the National Socialist Canadian Labour Revival Party (NSCLRP), a group that took credit this month for racist posters on the University of New Brunswick campus in Fredericton.
The Baron
, which is published at the University of New Brunswick's sister campus in Saint John, interviewed Thurlow about his beliefs and published a "complete, unedited, uncensored" transcript, which included numerous false and ahistorical claims about Indigenous peoples and residential schools.
Thurlow's opinion piece, which he submitted as a letter to the editor, was also published "unedited [and] uncensored," according to an editor's note. In the piece, Thurlow praises residential schools — where generations of children were systematically stripped of their language and culture as well as physically, emotionally, and sexually abused — as an attempt to "civilize" Indigenous people. He also espoused the anti-Semitic idea that Jews are a conniving and treacherous people who secretly control the world. (
more
...)