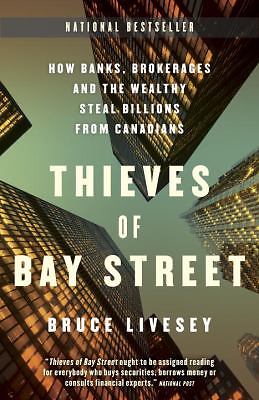 A newsmaking exposé about why Canada's financial industry is a haven for fraud.
Beneath the veneer of stability that saw Canada's banking sector through the financial crash of 2008, investigative reporter Bruce Livesey has uncovered a rampant failure of epidemic proportions. Though no large financial institution has recently gone bust in this country, white-collar criminals, scam artists, Ponzi schemers and organized crime, from the Hells Angels to the Russian mafia, know that Canada is the place in the Western world to rip off investors. And the fraudsters do so with little fear of being caught and punished.
Thieves of Bay Street
investigates Canada's biggest financial scandals of recent years. Readers will learn what banks do with investors' money and what happens when they lose it. They will meet the bogus investment gurus, the brokers who lose money with both reckless abandon and impunity, the bankers who squander money in toxic investments, the lawyers who protect them and the regulators who do nothing to keep them from doing it again. And most importantly, they'll meet the victims who are demanding that our vaunted banking sector finally come clean on its dirtiest secret.
Source: