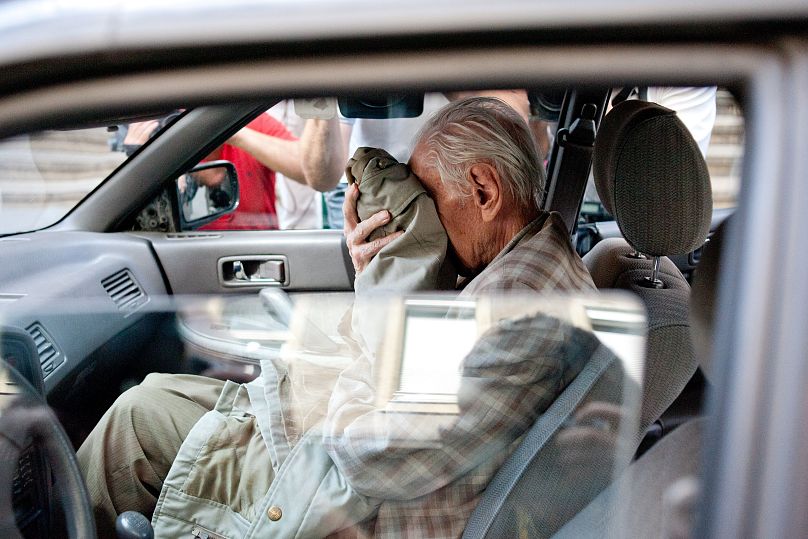 Alleged Hungarian war criminal Laszlo Csatary covers his face sitting in a car
as he leaves the Budapest Prosecutor's Office after he was questioned by
detectives on charges of war crimes during WWII
In June 2013, former police officer Laszlo Csatary was indicted for contributing to the deaths of 15,000 Jews who were sent to the death camp in Auschwitz in 1944. Aged 98, he had spent most of his life since World War II in Canada, working as an art dealer.
Csatary would never face trial for his crimes. On August 12, 2013, he died of pneumonia in a Budapest hospital.
Key to tracking Csatary down and bringing him to trial was the Simon Wiesenthal Centre and its chief Nazi hunter, Efraim Zuroff. Speaking to Euronews ahead of Holocaust Memorial Day on 27 January, he described the case of just one of the frustrations of the job.
"There have been quite a few dozen in which some legal action was taken against them. To be honest, very few were actually punished. But I think that to expose them is probably a far more painful punishment than ultimately to put them in jail," he said.
Zuroff has been personally hunting down and bringing to prosecution dozens of former Nazis and Nazi collaborators over the past four decades, from rank-and-file officers and camp guards to camp commanders who began new lives after the end of the war in 1945. (
more
...)