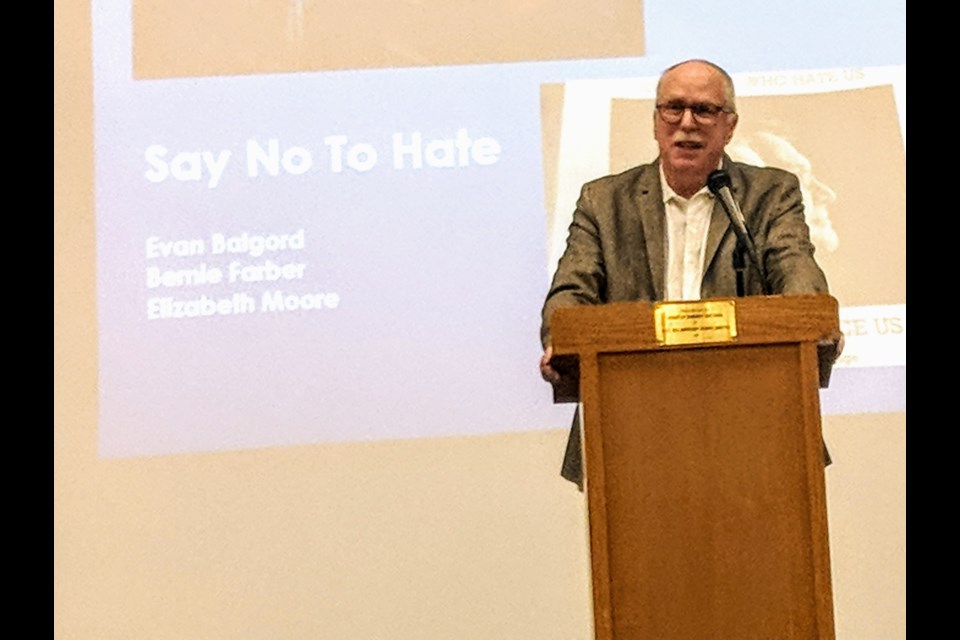 On the same day that Facebook banned six far-reaching, Canadian far-right groups and individuals from its platform, local parents and teachers heard from hate experts that members of such extreme white nationalist organizations had recently targeted Newmarket High School for recruitment purposes.
The Say No to Hate seminar organized by the York Region District School Board drew a large crowd of educators, parents and some high school students to the Newmarket High School auditorium on April 8. About 300 people pre-registered for the event.
Moderator Bernie Farber, a longtime human rights and hate crime expert was joined by Elizabeth Moore, a former member of the now-defunct 1990s white supremacist group the Heritage Front, and Canadian Anti-Hate Network executive director Evan Balgord, an investigative journalist and noted researcher on far-right extremism in Canada.
"It's an important day. Today, Facebook actually decided to act on its promise and bar white nationalist groups and individuals," Farber said to applause during his opening remarks.
"Tonight, we're going to talk about hate. We're clearly living in very complex and difficult times. Even this morning, we were informed that this school was plastered with posters from a white nationalist organization telling people to be aware of the fact that we're here tonight to talk to you about 'anti-European hatred'. But the sadness is that they came into this school. They're here, my friends, they're here." (
more
...)
__________________________
Yes, they are here. When I came to Toronto as a young engineering student, I was immediately immersed in a hot stew of second-generation Nazi hate. As a Catholic of Polish descent, I quickly discovered that I didn't fit in and found niches with Jewish students where we could evade the campus Gestapo. Two places on campus that I had to avoid were New College and St. Michael's College. Sons and daughters of former Nazis and Axis ideologues seemed to congregate there in unusual numbers, and their student bodies reinforced each other in supremacist radicalization. Even today, these ideologues poison our communities: