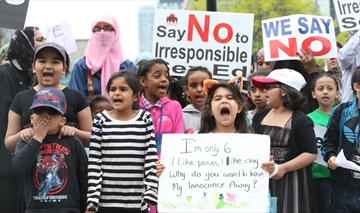 About a thousand parents and children showed up at Queen's Park Monday
to protest Ontario's new sex-ed curriculum.
On April 14, thousands of Ontario parents gathered in front of the provincial legislature to protest the new sex education curriculum. The group was made up of Canadians of numerous cultures and religions.
A similar protest took place Monday. No doubt some of these people can be counted among the tens of thousands who have signed petitions against this new curriculum. Together, they are urging the government to repeal the new sex-education curriculum.
What exactly is the problem with the curriculum? (
more
...)