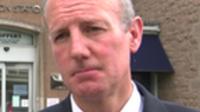 Det Supt Stewart Gull, States of Jersey Police
Jersey police are investigating 13 prominent people as part of a new inquiry into child abuse.
It follows an increase in the number of people reporting historical abuse in the wake of the Jimmy Saville scandal and the Jersey Care Inquiry.
Police say Operation Whistle is looking into 45 suspects and four institutions.
Det Supt Stewart Gull, Head of Crime Services, at the States of Jersey Police said a dedicated team had now been set up to investigate abuse.
He said: "We have now got to a point with a significant number of suspects where we felt we needed to make a step change, take staff from their day jobs and ring fence them to give them headroom to crack on with current inquiries."
The Jersey investigation will follow the terms of reference setup as part of the UK National Police Chief's Council Operation Hydrant. (
more
...)