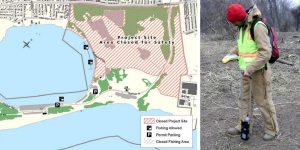 A lingering Manhattan Project mystery is still buried at New York's Great Kill Park.
In August 2005, the New York Police Department, with the Department of Energy, conducted an anti-terrorism radiation flyover survey. The survey was intended to provide a baseline of radiological activity, in order to catch a suspicious construction of a dirty bomb.
They didn't find a dirty bomb—but there was plenty of radiological activity. Surveyors found 80 radioactive locations in the city—one of them being Great Kills Park in Staten Island, one of the city's five boroughs. The Park is a popular place near a suburban enclave inhabited by cops, firefighters and other unsuspecting residents. The Park, more than 500 acres of woods surrounding softball and soccer fields and a marina, was constructed from garbage dumped in the bay between 1944 and 1946. Unregulated and illegal dumping has a long history in New York City.
The radium is the legacy of nuclear weapons production coupled with a cavalier attitude towards the odorless, tasteless and invisible threat posed by radioactivity. (
more
...)
Sex-ed ain't the only third rail in Ontario:
Health and Physical Education, anyone? We're the government, and we're here to co-parent your children. And, we've done the research.