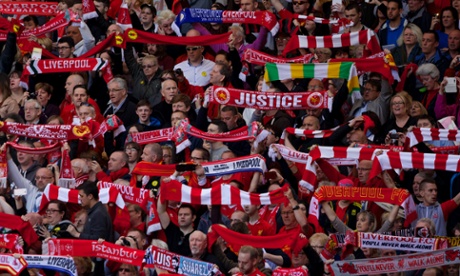 Commemoration at Anfield stadium marking 25 years since the Hillsborough
disaster, in which 96 people died.
Senior South Yorkshire police officers who were freemasons orchestrated a "masonic conspiracy" to shift the blame after the Hillsborough disaster in 1989, the inquests into the deaths of the 96 victims have been told.
Maxwell Groome, a constable at the time, said that after the disaster at the FA Cup semi-final between Liverpool and Nottingham Forest at Sheffield Wednesday's football ground, "the word" inside the force was that freemason officers held a meeting to blame superintendent Roger Marshall.
Groome said he heard that the meeting took place in portable cabins at South Yorkshire police's area office, and was attended by Chief superintendent David Duckenfield, who had commanded the match.
Questioned by Michael Mansfield QC, representing 75 families whose relatives were killed at Hillsborough, Groome said he believed Duckenfield was "a grandmaster of a particularly influential lodge" – the Dore lodge in Sheffield.
Groome also told the inquest that senior officers pressured junior officers to change their statements after the disaster, because they were "terrified" of criticism of the force's command. (
more
...)
A far-reaching culture of corruption: