The official celebration of Poland's 99th independence day proceeded innocuously, with ceremonies in the capital. There was even a visit from the European Council's internationalist president, who insisted to
Politico
that Saturday's festivities would proceed "with a smile on our face and with joy in our hearts."
But for blocks and blocks and blocks beyond the central towers of Warsaw, a much larger crowd swelled beneath a cloud of red smoke. The tens of thousands of people came from across Poland and beyond, and reporters documented their signs:
"Clean Blood," as seen by
Politico
.
"Pray for an Islamic Holocaust," per
CNN
.
"White Europe" streaked across another banner,
The Associated Press
reported — as about 60,000 people chanted and marched through Warsaw in an annual gathering of Europe's far-right movements, which have by now grown to dwarf the official version of Poland's independence day. (
more
...)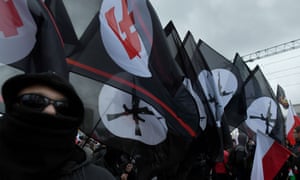 Fascist Falanga insignia on display at the march
Is Germanification in Poland's future?
Let us beseech the Church for a strong response to these Nazi agendas: